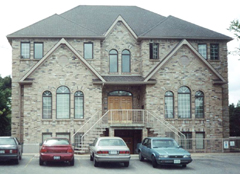 Bereaved Families of Ontario is a non-profit, mutual aid organization providing support services for families who have experienced the death of a child, at any age and from any circumstance. We provide a safe place where members can talk about their loss, share their story,  and express their grief. Through the self-help process, participants no longer feel alone. They feel hopeful as they see how others have coped, and learn about grief as a normal response to loss. Participants find a comforting network of caring people building trust and relationships. Our meetings and groups are facilitated by trained bereaved parent volunteers.
There are eleven BFO affiliate chapters throughout the province of Ontario. The Southwest Region Chapter serves communities across the counties of Middlesex, Elgin, Oxford, Kent, Huron, Lambton and Perth.
We're located at 571 Wharncliffe Road S., Suite 4, London Ontario N6J 2N6
---
Cathy Howe is our Executive Director (since 2016).  She has been a member of Bereaved Families since 2008, following the death of her daughter. During this time she has been both a peer support volunteer and a member on the Board of Directors. Cathy also has 30 years experience as a Registered Nurse.
Cathy Walsh became a founding member of BFO in London, following the death of her son in 1982. She was our first Executive Director and has over 35 years' experience with our organization. In her current part-time role as Associate Director, she focuses on fund development and group meeting facilitation.
Please contact us:
Telephone: 519-686-1573
E-mail: bflondon@rogers.com
Facebook: facebook@bfosw